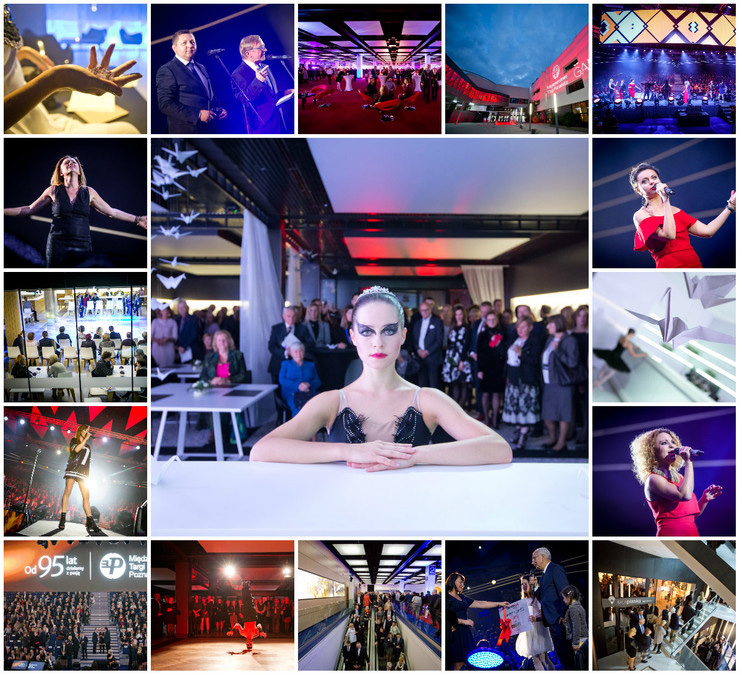 The Earth Hall full of people, lively music, stimulating performances, lots of fascinating facts about the Fair and best wishes; this is how the Poznań International Fair celebrated its 95th anniversary.
About a thousand five hundred people participated in Gala 9.5 Senses and Elements which took place at the MTP congress center on 26th October 2016. The event was inspired by the names of the pavilion 15 rooms, which are clear references to the elements and nature. Each room housed a different performance ranging from ballet in the Air Room, drummers and capoeira in the Sand Room, modern dance in the Water Room, people in disguise, a hatter and ice queens in the Crystal Room, to break dance in the Fire Room.
The official part held in the Earth Hall was opened by the MTP marketing director Iwona Kasprzak-Ciesielska and TV presenter Tomasz Wolny. In their speech, the MTP's CEO Przemysław Trawa and deputy CEO Tomasz Kobierski expressed their gratitude to the guests who gathered in the hall to celebrate the company's anniversary. They also spoke about Poznanianship and innovations, ideas which have determined the Fair's identity ever since its origin in 1921 and meetings which define the essence of the company.
The economic significance of the MTP was emphasized by addresses of the special guests featuring President of Poznań Jacek Jaśkowiak, Secretary of State in the Ministry of Foreign Affairs Konrad Szymański and Undersecretary of State in the Ministry of Development Tadeusz Kościński. Siergiey Aleexey, the President of the Global Association of the Exhibition Industry (UFI), spoke about the position of the Poznań International Fair among European exhibition organizers.
Prepared especially for the 95th anniversary of the MTP, the concert Poznanianki was the most anticipated part of the evening. Poznanianki involved seven female artists: Aga Czyż, Ewa Jach, Kasia Klich, Ewa Nawrot, Marta Podulka, Kasia Rościńska and Kasia Wilk, who prepared eight polish hits to a new beat under the artistic supervision of Jacek Piskorz. The soloists chose pieces which were originally made by artists connected with Poznań, namely Anna Jantar, Hanna Banaszak, and the band Strachy na Lachy.
The MTP's anniversary also featured a social aspect. Instead of flowers and presents, the Poznań International Fair encouraged its business clients to support the Association for Supporting Pediatric Marrow Transplantation and Oncology Dzieciaki Chojraki operating with the Pediatric Oncology, Hematology and Transplantology Clinic of the Poznań Medical University supervised by professor Jacek Wachowiak. Among the donors were Jan Szynaka, CEO of Szynaka Meble, and his wife Anna Szynaka who decided to support the Association with a furniture voucher for the hospital department which will be constructed in the future.