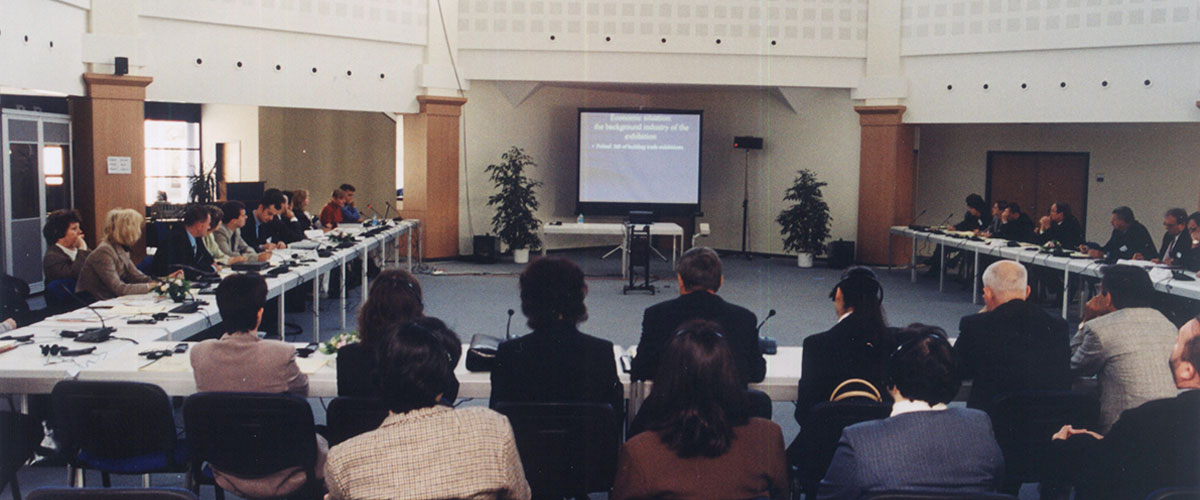 Workshop on Construction Trade Fairs in the region
Summary
CENTREX (Central East European) International Exhibition Statistics Union has launched a new line of activity strengthening her leading position in exhibition industry enhancing marketing promotion and co-ordination with opportunities of regular exchange of experience and future visions in Central East Europe. Providing new platform for the exhibition industry in Central East Europe – aiming to deal with conceptual as well down-to-earth organisational problems and trying to find solutions – the 1st Central East European Exhibition Forum (CEEEF) was held in Budapest. Fully backed and supported by HUNGEXPO Co. Ltd. (the organiser of CONSTRUMA and HUNGAROTHERM trade shows) the workshop was dedicated to the present practice and future of building trade fairs inviting mostly project managers of the exhibitions in the region. It was attended by 72 specialists.

Building trade fairs have gradually become the most important, biggest trade fairs in CEE countries. The character of these shows has also shifted toward featuring mixed B2B and B2C profiles. These shows becoming the biggest it was also discussed that being flagships they may turn out to be vulnerable to future developments, not only concerning their growth or reputation, but for the business strength of the organising companies. Presently often facing space inadequacy, structure, synergy changes, new demands for frequency and also the appearance of huge building material trade centres – thus any major change can heavily effect the business prospects of the whole companies as well.

The 3-day workshop was run in 4 chapters, focussed on such aspects as:
International trends, changes and forecasts in building industry trade fairs
Changes in architecture and its reflections at trade fairs
Future of mega building fairs
Central East European markets and changes
Is building trade fair market getting saturated?
Are our fairs really international?
Cloning building fairs in other cities
Calendar problems, need for harmonisation in CEE
Fairs or exhibitions – good practice and challenges
B2B or B2C? Changes and prospects
Advantages and disadvantages of being the market leader
Success of niche market construction fairs
Experience with trade associations and trade press
How to activate visitors' and exhibitors' emotions
Marketing versus sales?
CRM in building trade fair sector
The invited speakers were also mostly the project managers and marketing specialists in charge of these shows or companies. Additionally Mr. Uwe Görlt, secretary general of International Building Exhibitions Committee and Mr. Balázs Balogh, an architect-professor at the Budapest Technical University contributed greatly to the success of the meeting.
Workshop participants came from 12 countries, from Estonia to Italy, from Romania to Poland. Reflecting the open character of CENTREX 75% of the foreign participants came from non-CENTREX member companies. The first reactions – also from some trade associations and trade press who were also present – are very encouraging to go on with the initiative into other sectors.