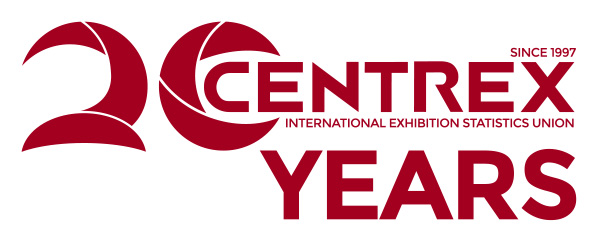 4th Central East European Exhibition Forum (CEEEF)
dedicated to
Corporate Social Responsibility among Fair Organisers
in Central East Europe
Summary
Prague May 19, 2017, as an accompanying event of celebrating 20 years anniversary of CENTREX Union
Keynote speaker: Dr. János Barabás PhD, HUNGEXPO Chairman Sociologist, UFI Vice President
Speakers: Mr. Jiri Kulis, Chairman and CEO of Brno Trade Fairs
Mrs. Iwona Kasprzak Ciesielska, PR Director, MTP
Mr. Andrzej Mochon, Chairman and CEO, Targi Kielce
Mr. Gábor Vaszkó, Director, V-Trade Exhibitions
Moderator: Mr. Károly Nagy, Advisor of CENTREX, Economist, Expert of Exhibition Industry

Participants: CENTREX members and as guest Polish Chamber of Exhibition Industry
In his foreword Mr. Károly Nagy has mentioned that through meetings with CENTREX members - also as a side experience of the audit visits - many ideas, events, approaches came on surface how the trade fairs organisers needed to understand and react to the different written, spoken or even unspoken demands from their environs: of public authorities, the surrounding public, society.
CENTREX then decided to continue with the previous practice of exchanging experience on Central European region level. Thus this Forum has its objective as sharing experiences and aspirations by public and private fair organizations working for and with local authorities and local civil societies in Central East Europe. The Forum is meant to be an opportunity for assessing changing expectations towards corporate, family businesses.
There is no single definition what Corporate Social Responsibility is. Hereby 4 dimensions of CSR was aimed at this meeting:
social,

economic and

stakeholders relations

environment
the relationship between business and society, describing CSR in terms of business operation, interactions with their stakeholders, how trade fair companies care for progress in civil society.
CSR is not charity, it is not philanthropy, it is – according to Dennis Wilcox – as a business standard. CSR is popularly conceived as activity of globalised organisations however own CEE businesses should be even more sensitive to the issue – having higher social involvement in local and national fabric.
In the Keynote dr. János Barabás PhD, HUNGEXPO Chairman – a sociologist – and UFI vice president spoke about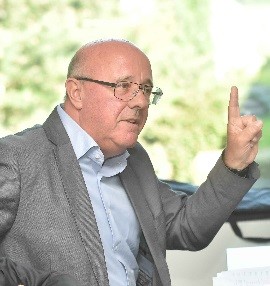 Challenges of the changing societies – and its impacts on Corporate Social Responsibility
He made 3-layer approach: global changes, psychological factors and main impacts on exhibition industry.
I. Global changes: fake news are often popping up and people are hard to know whether to believe or not
challenges are by

globalization

localization

volatility (and often vulnerability)

crisises – both on global and local level

digitalisation

lack of trust - political, psychological

anti-elite - elite of political and economic - resulting in populist movements



II. Psychological factors

increasing isolation

lack of cooperation, solidarity, social cohesion, transparency, accountability

lack of responsibility

speed of info – internal – immediate responses are expected

virtual world – can manipulate

young generation lacks knowledge of the critical approach – what is true or not

lack of stability – longer life, shorter life cycles
III. Main impacts on exhibition industry:

increasing regional differences – e.g. China, South America

Anglo-Saxon model or German model – which are to follow

market changes

consumers – customers need change

digital support needed

structural conditions – reduced time, finance, increasing demands on exhibition yield
But anyway, he signalled not to forget the nature of exhibition industry – it is a mirror industry!
Mr. Jiri Kulis, Chairman and CEO of Brno Trade Fairs spoke about invitation by Czech government to participate at a national competition on CSR activities. It was BVV's own exercise to put together an application was rather raising consciousness about the issue – and ultimately they were national 2nd!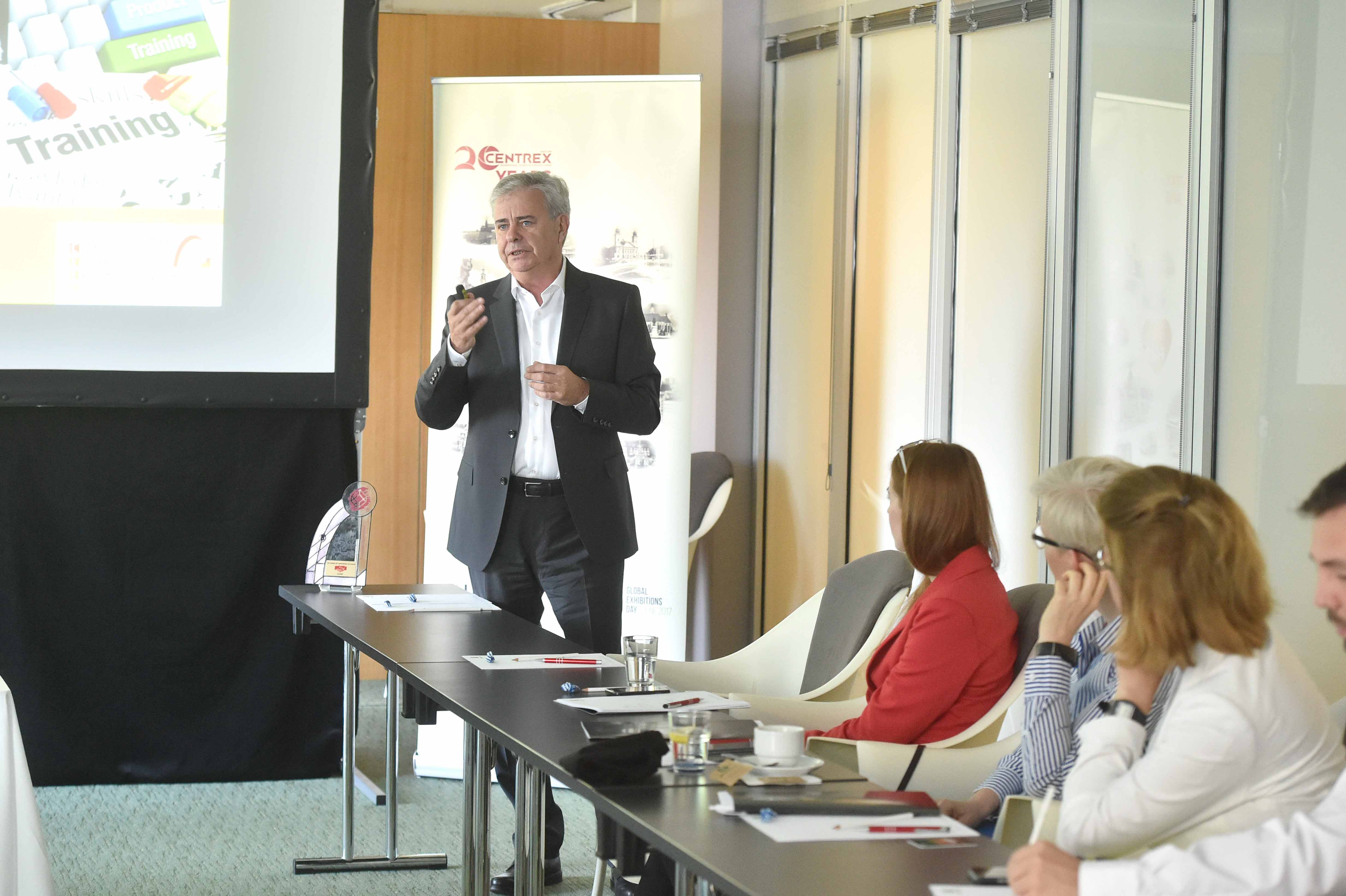 He mentioned a few examples. E.g. BVV bought 2 paintings from child cancer foundation – and
now these are symbols for BVV.
He spoke about the corporate mission – and relations with the stakeholders – BVV has an advantage over manufacturing companies – which derive from the very activity, the effects and synergies give many opportunities like
support of SMEs – awards for the start-ups

support education – technical schools – special price for students (not free to make them feel they get values)

environment – selected garbage collection – it is natural, but with a reputed partner

architectural heritage – and an argument to the city – paying from own budget

employees are important – I Love Company – benefits to them are not just salary

relations with the city – not always about money but everything can be a value

BVV is part of many events in the city – e.g. fireworks competition, Jazz Festival on fairground

they want to look good – and accepted by local communities - I Love Culture

sport – healthy life – and the participants maybe future customers and BVV supports juniors

charity – special equipment to hospitals, support of home of elder/handicap people
It is a competitive advantage, brand building issue getting customer loyalty, loyalty with staff. Target: sustainable business. Value/year is 800.000 EUR (not only money).
Károly Nagy recalled that through the essence of the base activity, t.i. the trade fairs both exhibitors and visitors are gaining so the basic activity a kind of a society advantage.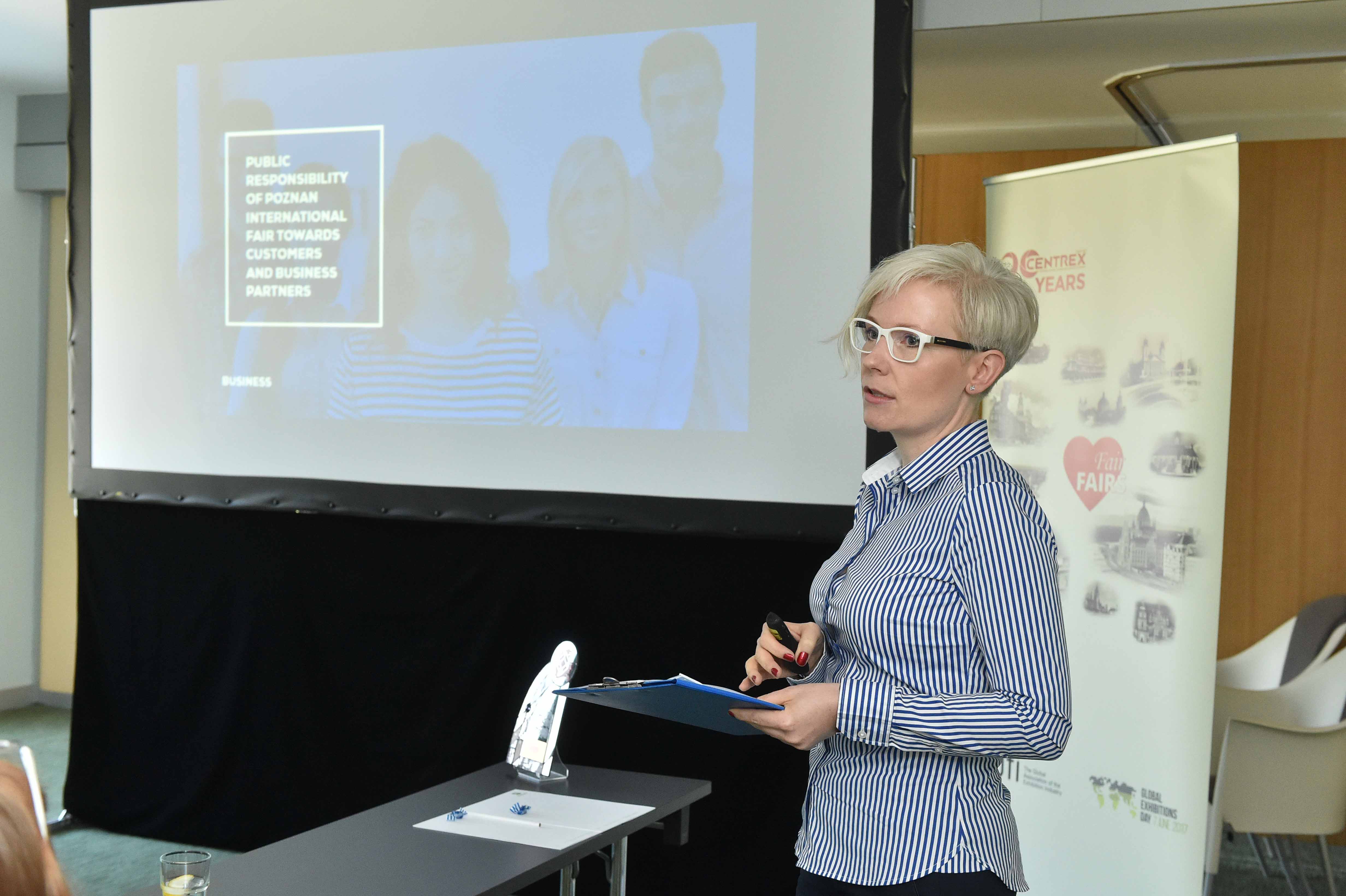 Mrs. Iwona Kasprzak-Ciesielska, PR and Marketing director of MTP Poznan explained some best practices of MTP.
In her presentation she has put 3 target groups: business customers, local environment and employees. She mentioned that in many ways the interest is to develop true relationship.
Chapter 1. CSR towards business customers:
- support the development of business,
- exchange views and create new ideas in a
- friendly international meeting place for
- people thinking about the future.
MTP supports matchmaking, hosted buyers, industry programs launched by government.
Subcontractors are also requested to be correct – reputed – and this does support reputation of MTP as well.
She mentioned how Internet is used to support transparency - 50 profiles on FB
Chapter 2. Towards local environment:
Though this is not the main clientele, but an important factor, the local society – so at MTP they are active in the interest of
- Culture, entertainment
- Sport
- Innovation, support for science and education
- Social Involvement
There are activities that provide entertainment, attractive ways to spend leisure time, the realization of one's own hobby – plenty of own dedicated events and sponsorships – and tool to make Poznan to be more interesting to live in!!! Beyond own fairs they stage e.g. Summer in Fair Center – also a City Beach, an open air cinema. She mentioned shopping malls are challenge to these. These projects are organized with many local partners who mainly cover their own costs, and MTP accommodate them under favorable conditions.
Chapter 3. Employees:
MTP pays lot of attention to staff development, to the quality of present and future life (e.g. nursery, senior club), support in difficult situations, the needs of families and building a sense of community and team through integration meetings, occasions.
She presented a series of videos with multiple facets of CSR-related activity.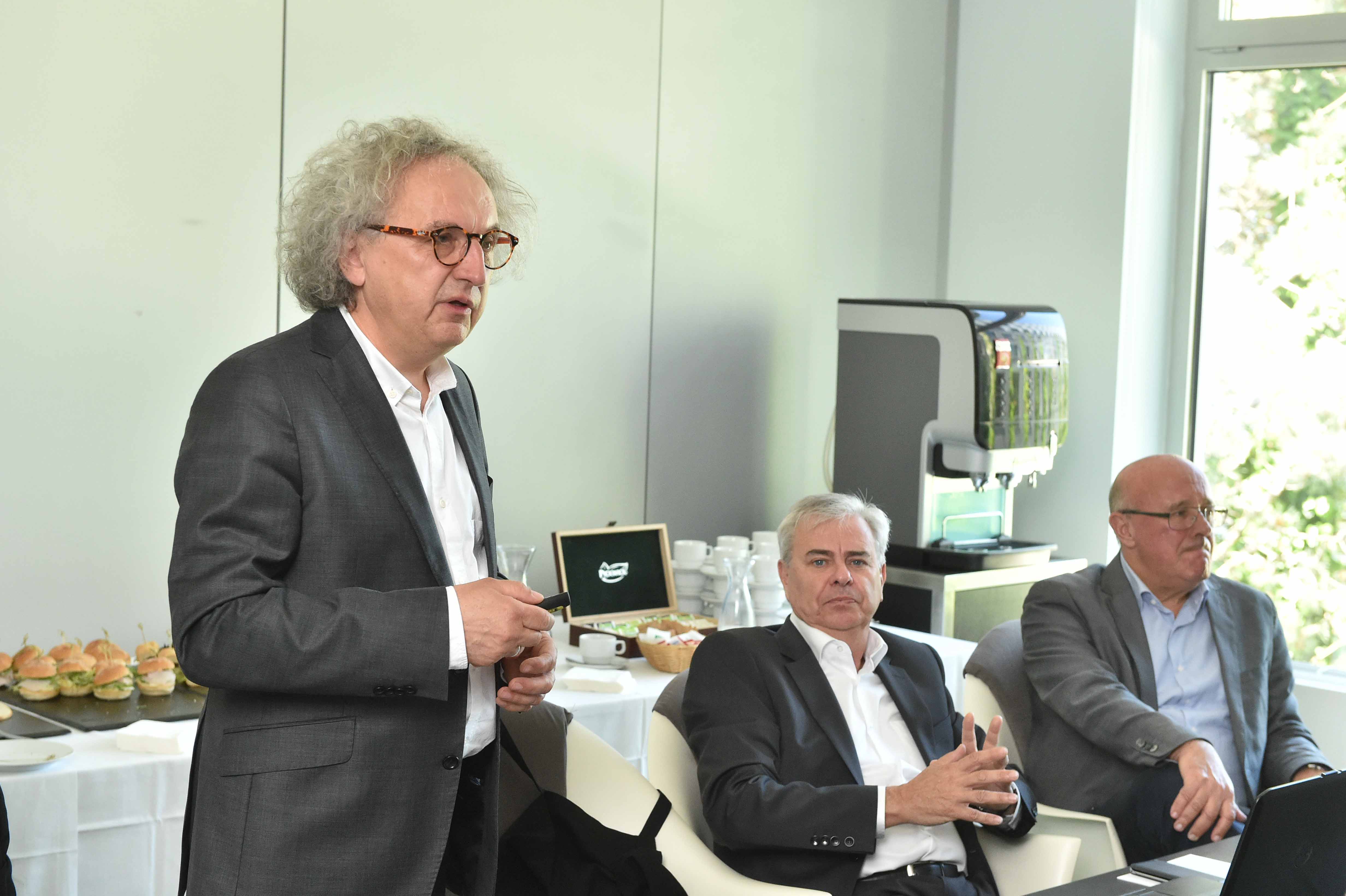 Mr. Andrzej Mochon, Chairman and CEO of Kielce Trade Fairs was focusing on one specific project: EXPO CITY.
EXPO CITY project is the result of understanding – and spread of understanding – that trade fairs have a huge impact on local economy and environment. Local revenues are 5-7 times more than just Targi Kielce event revenues. Host city and city institutions should be interested as a team.
Then he mentioned a few German examples of XXI. century – where corporate social responsibility (CSR) is an integral part of corporate concept of trade fairs and comprises:
- Sustainability - implementing numerous measures to preserve the environment
- Social Responsibility - being reliable partner, supporting social institutions and offering good working conditions
- Involvement in Science & Education
- and Cultural involvement.
He presented the mutual interests – Targi Kielce promotes the city and the city promotes Targi Kielce. EXPO CITY is not just a logo, it is a system – which is intertwining city institutions and Targi Kielce – local partners.
Goal is to build the image of Kielce as a modern city, supporting development of business, culture and science. Idea is to position Kielce as the city of exhibitions. Tactics include common marketing campaign of KIELCE CITY, companies related with exhibiting, and municipal institutions of culture, science and art. Participants of the project promote ExpoCity concept in the framework of their own events. These 26 institutions, companies place information about ExpoCity on the websites and in own promotional materials.
Coordinator is the city, and information about the events organised by participants are also on the common website: www.kielceexpocity.pl and in/at common promotional materials
Advantages are
Low budget campaign

Long term involvement of participants

Communication both for business and private persons

Using already existing events - no need to organize additional events for the promotion of the city

Win-win situation for both municipal institutions and Targi Kielce

Institutions

provide

: image, interesting content, attractions for the visitors of exhibitions

Targi Kielce

provide

: brand, contacts and experience, bigger

promotional budgets
He mentioned that in fact they do quite many things similar to Brno – he made reference to earlier supporting top hand ball team which ultimately won Champions League – and now they support women handball team instead, which now advances to top league.
Károly Nagy reiterated in line with the remarks by the participants: city relations are important and essential yet there is a continuous need to better explain the advantage and usefulness of trade fair operations both the city officials and the citizens.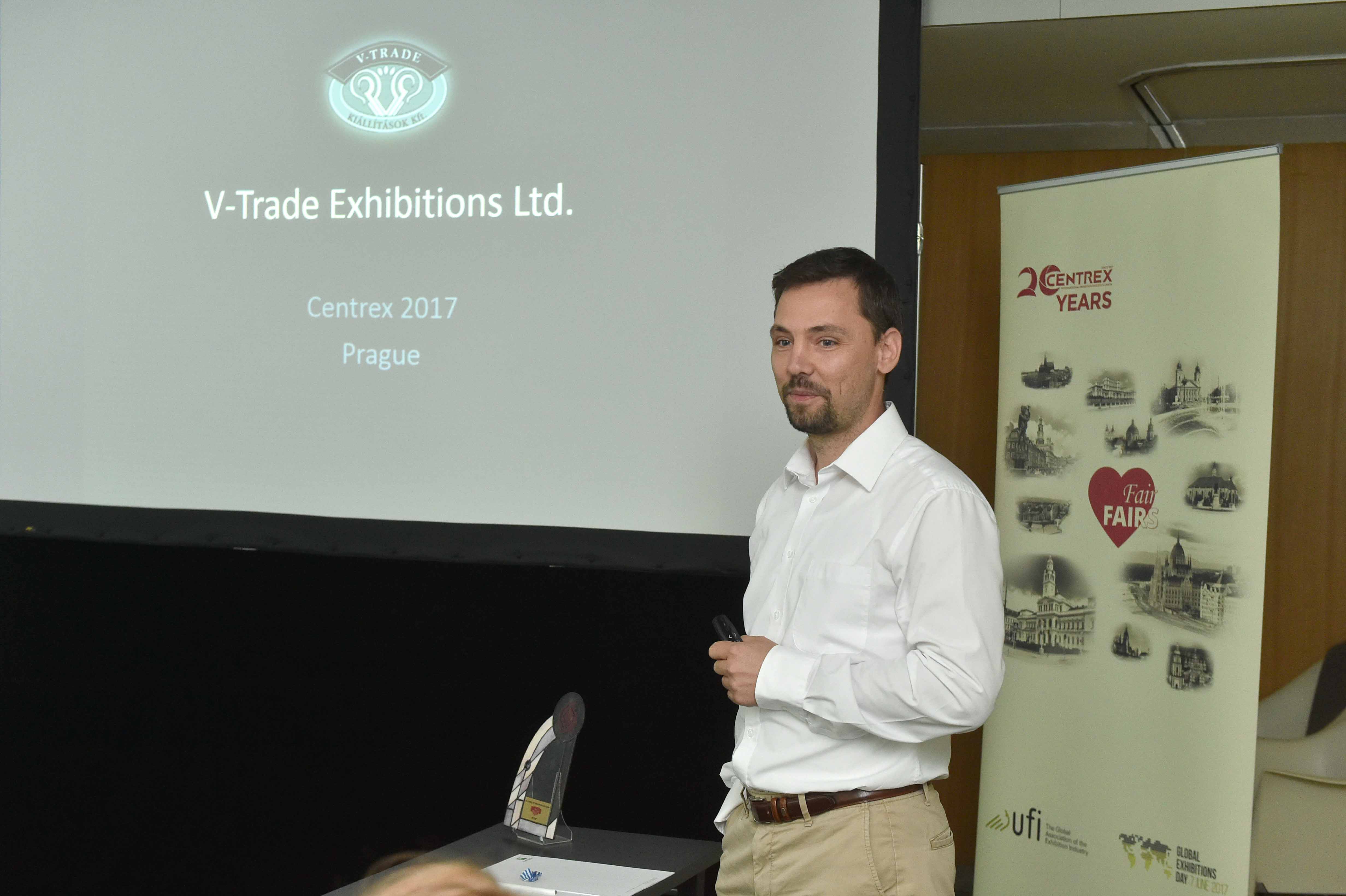 Mr. Gábor Vaszkó, Director of V-Trade Exhibitions Ltd., Debrecen presented an approach – a family run business – not just exhibitions. He mentioned that CSR is to make the organisers happy, it is better to give than receive.
In their case CSR is related to core business. E.g. the new business model – Farmer Expo is a knowledge center: all conferences are free of charge in Farmer Expo. ('Without knowledge any equipment is just a piece of metal!' - László Vaszkó, Founder of V-Trade). Also beyond exhibition time they started a Pig Academy in Debrecen.
One of their exhibitions ENERGOexpo has an NxG (Next Generation) session for free. It is – should be sustainable, long term dedication and it has different meaning according to different local communities, society.
He made reference as – a major commitment to community – a family business value: they contribute to society with proper payment of taxes!
Long term vision goes through generations, need passion and invest in local community.
They believe that the social benefit of their exhibitions is higher than the direct profit of the participant.
Focus at their exhibitions are on Education, Innovation, Networking and Inspiration.
He then made an explanation – a remark what V-Trade (Vaszkó-Trade) stand for:
Traditional - because we provide services to our partners since 1990
Responsible - because we take care of the need of our partner and the society
Audited - because we are member of the CENTREX brotherhood J
Dynamic - because our team always seeks for innovative solutions
Education - because we provide knowledge and inspiration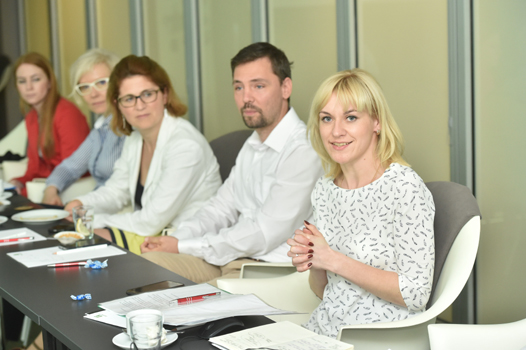 Ms. Lesya Antoniv, Vice-president of GalEXPO, Lviv has added that as the leading fair organiser in Lviv, with annually 15 exhibitions their mission is to serve the local businesses and care for local visitors mostly. There is a sizeable growth of visitors at their fairs – and another mission is to internationalize local businesses. They have been planning to establish fair center cooperating with the city.
M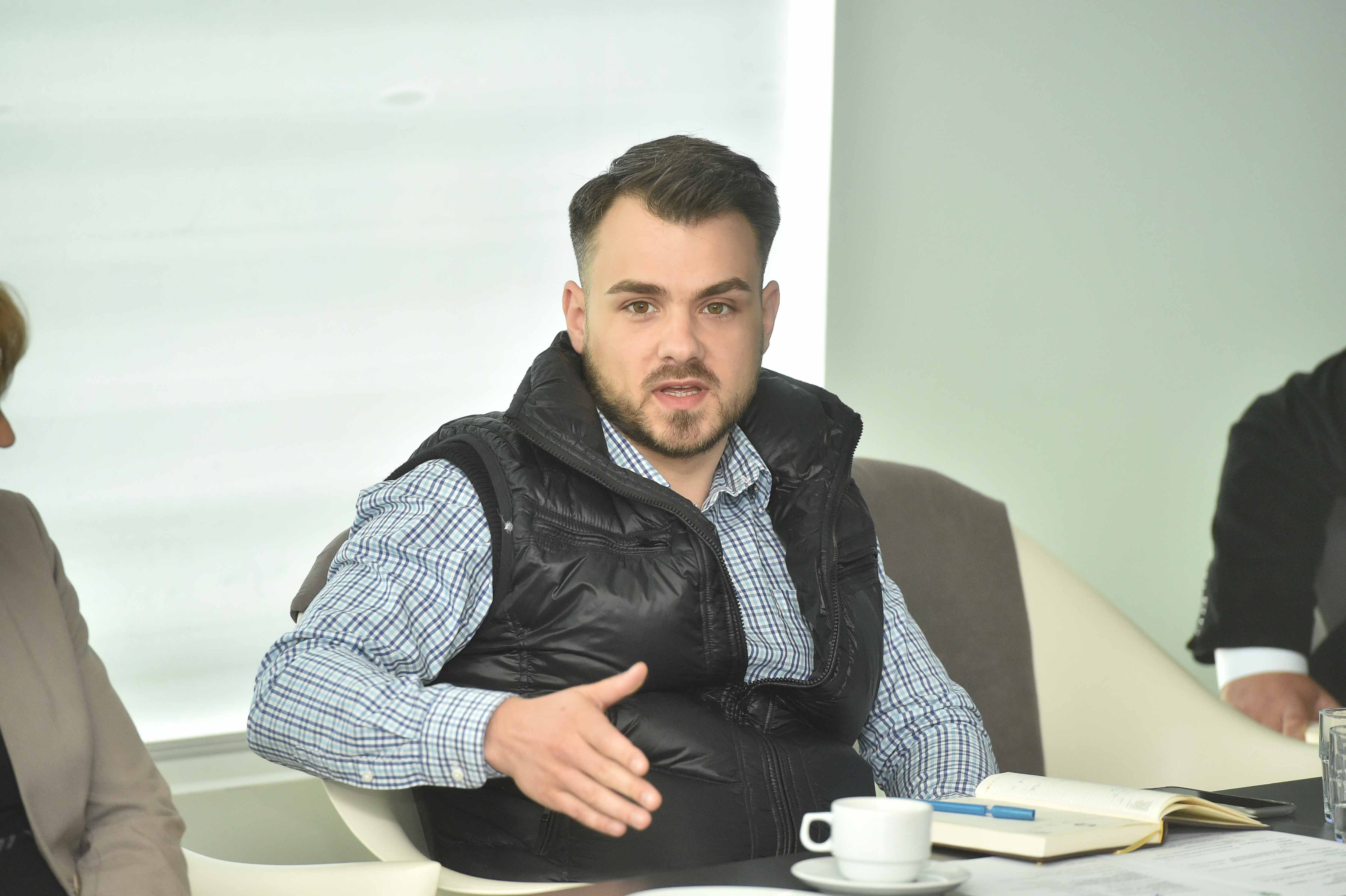 r. Vlad Cherchezan, Advisor at EXPO ARAD has brought 2 examples for the fact that often the trade fair activity itself is an issue of social responsibility: organizing job fairs do assist the community to fight against unemployment – while their wine and food fest do help small local companies as first steps to find ways onto markets and then to grow.
Dr. János Barabás, keynote speaker mentioned that on June 10th, 2017 there will be a family meeting of the present and previous Hungexpo staff dedicated to 50th anniversary and GED17.
In summing up Mr. Károly Nagy has reiterated that CENTREX members have shown how many aspects of social responsibility come up every day and that this sensitivity is inherent – irrespective of public or private owned businesses in the trade fair sector. This exercise on CSR really supports the efforts on Global Exhibition Day – we can be proud to be involved in trade fairs. Topic is planned to continue on national and international level.
In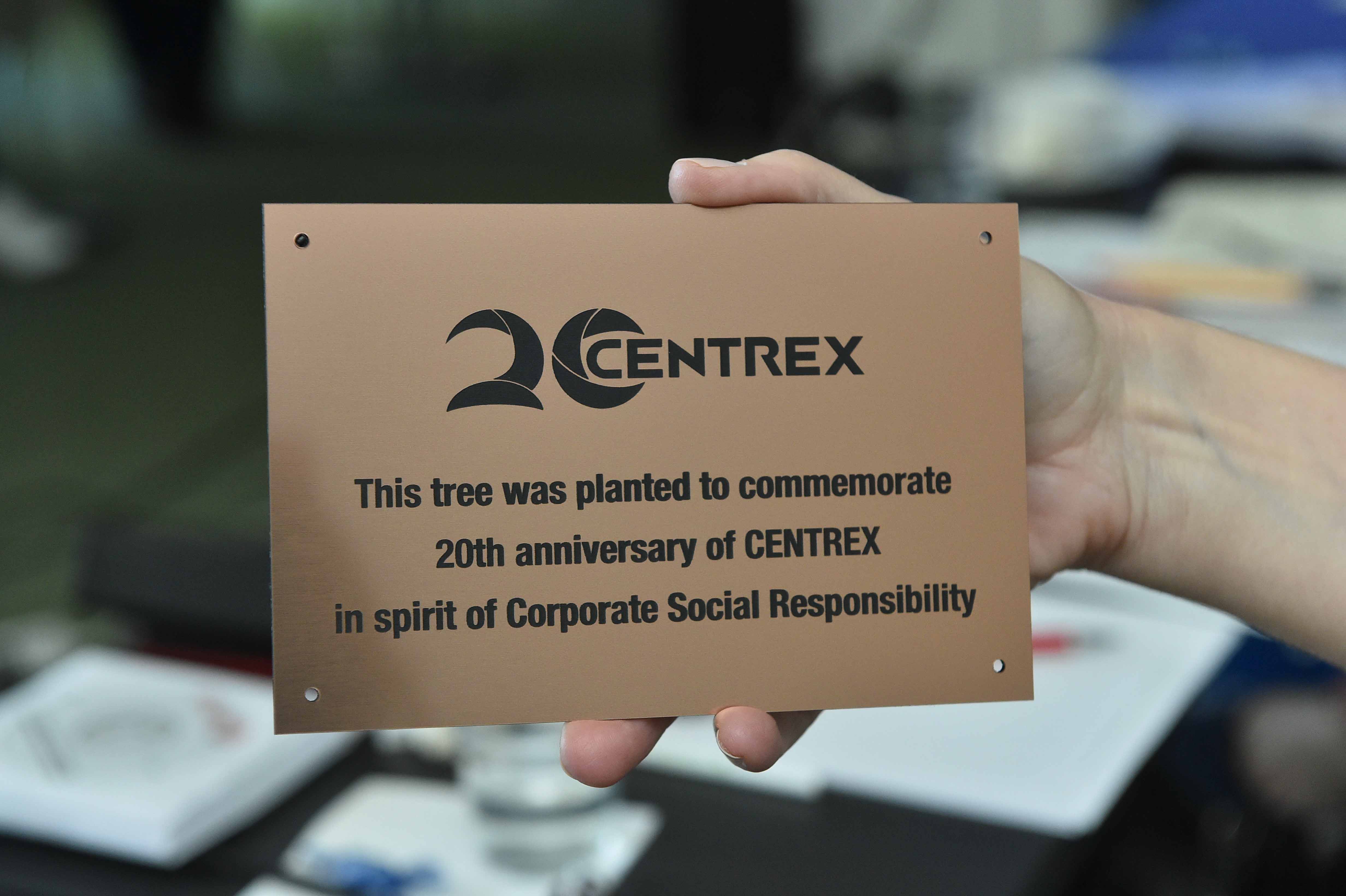 the end of the 4th CEEEF Ms. Ildikó Molnár, Executive Director of CENTREX has kindly requested CENTREX members to commemorate the event, meeting – and contributing to the future – to plant a CENTREX tree at their premises and she handed out a plaquette for placing there.